App
New Features! Streak, Levels, Sets, & More
4 min read

[addtoany]

test
Update 11/09/2022: A lot has changed since we wrote this update. Visit our products page to download our latest app version and sign up for Live Coaching to reach fluency, fast!
Since our first major app update in early May, we've released a new update about every two weeks with critical bug fixes and the most-requested new features.
Here's a recap of the major improvements recently released, plus a look at what's next:
Streak feature
A fan-favorite, Streak is designed to motivate you and reward your continued effort.
To keep your Streak growing, you simply have to accomplish your Daily Goal, which is made up of Daily Tasks (note that Bonus Tasks don't affect your Daily Goal or Streak).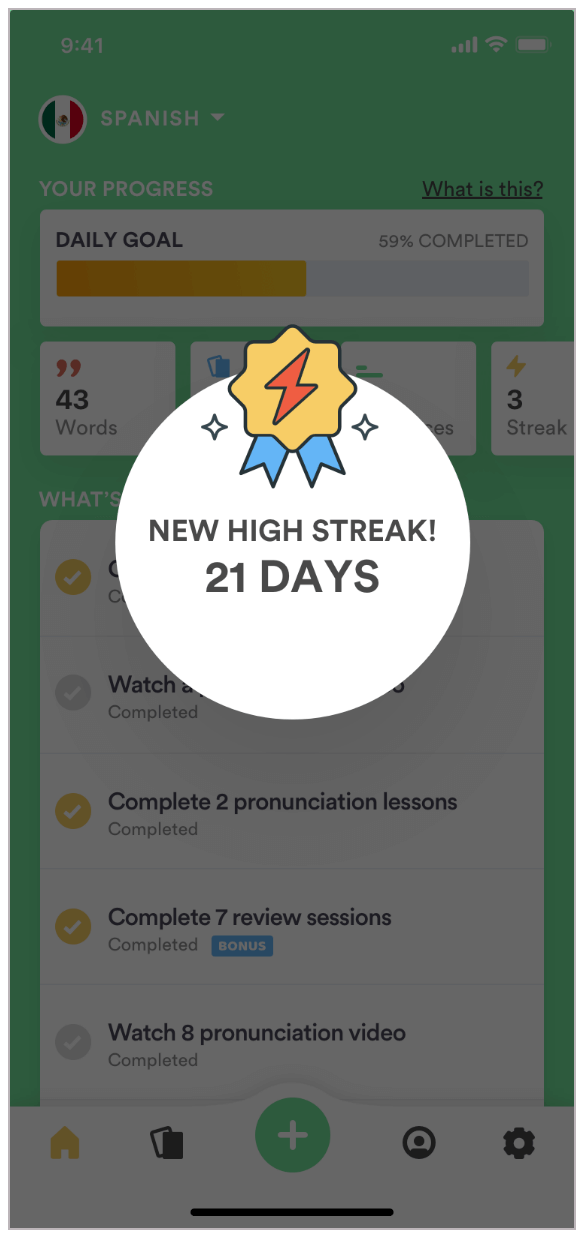 Pronunciation levels
One of the most noticeable recent changes to the app is the redesign of our Pronunciation and Base Vocab sections. Per our users' feedback, the Pronunciation section is now broken up into small, digestible levels.
So instead of epic 3-minute videos, which contained a lot of new information to take in, beginners can now ease into new pronunciation concepts with short, succinct lessons.
In addition, we've added contextual guidance in the form of little info blurbs in each level that gradually introduces new users to our method.
Base Vocab sets
Just as we did in the Pronunciation section, we revamped the Base Vocab section to be broken out into small, digestible sets.
The development we're most excited about is that we integrated the illustrations from our popular 625 Base Word List, which has been instrumental in helping thousands of long-time customers all over the world jumpstart their road to fluency.
Now, these super-helpful illustrations are baked right into the app so that our users can learn the most frequently used vocabulary more quickly.
They work by helping you quickly see the connections between the various words in each set. This adds a layer of associations into each word you learn, which will help you learn your words faster and retain them longer.
You'll also notice that words are now on their own row, instead of two per row, to optimize your focus and improve the functionality of the Know It and Skip It swipes.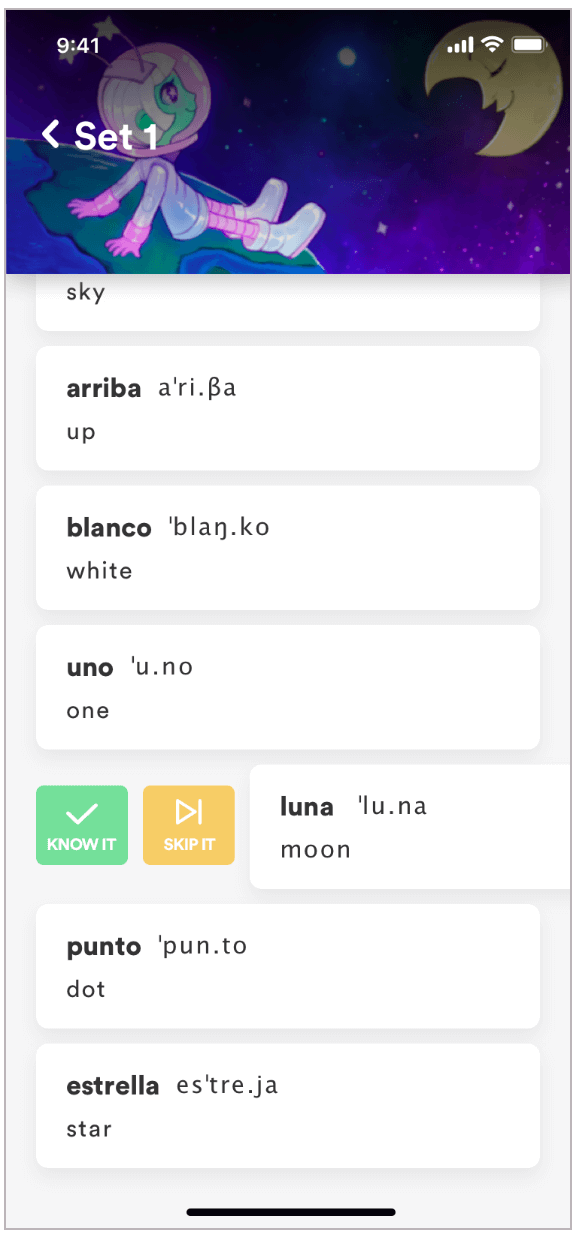 See Translation
If you've been following us for a while, you'll know we're no fans of translation. Having said that, there are some appropriate times for translation that actually optimize language learning.
The translation should definitely not be used as it is in most other language apps – that is, trying to teach you new words by showing you translations and having you translate them back. That significantly slows down your retention and progress.
Instead, we use translations in two places:
The first time you learn a word (so you know exactly what it is, to better choose a relevant image to associate it with). After this, you no longer see the translation so that your brain focuses on the image or concept of the word, rather than trying to remember the less useful (and harder to remember) translation.
NEW! The second place we now show translations is in card review for those moments you sort of remember the gist but want to verify 100% that you're remembering correctly. This is actually a fine use of translation, as it's a fact-checking tool that reinforces the correct answer in your brain. Rather than take the lazy route of first seeing the translation, you first force your brain to try to guess the answer right, and then use translation (if needed) to corroborate your memory.
Assorted bug fixes
We fixed the following:
Upgrade screen wouldn't go away after upgrading
Daily goal of watching a video when none were available within the current level
Incorrect emails sent with subscription upgrades
App crashing with learning specific words in sentences
That's all for now folks! We're thrilled to have been able to release your most requested features since our April launch over these latest series of updates.
So what can you look forward to over the coming weeks?
Up next, we'll be working on an Explore section that lets you search for specific words and sentences, personal image upload, user progress, and improved Review and navigational menu designs!
Learn more about our upcoming features here.