Linguistics
Fluent Forever Book: The Gallery
5 min read

[addtoany]

test
Update 10/17/2022: This is an older blog post containing information about using the Anki software to create flashcards for language learning. A lot has changed since!

Fluent Forever now offers a proprietary app that automates flashcard creation, letting you concentrate on your learning progress. Download the app to check out the 13 languages available, and sign up for our Coaching program to reach fluency with a personal tutor!
This is a guide to the flashcards that will teach you your language. This page is designed as a supplement to my book. To that end, I'm going to show you some of the basic flashcard designs for each part of the language learning process, and then show you precisely how to make those flashcards in Anki, using a model flashcard deck that I've designed.
If you have more questions about Anki and language learning, check out the Anki language learning forum on Reddit or follow up the resources on this blog about Anki language learning.
Here's a video tutorial for the content on this page, or you can use the step-by-step directions below it:
Anki Tutorial 2: Installing the Model Deck
For those of you who want to install two model decks for two languages, follow this tutorial!
Step 1: Download and install Anki
To install Anki, head over to http://ankisrs.net, click the download button and follow the instructions on that page. Easy. If you're still struggling with Anki installation, then join and ask the Anki language community.
Step 2: Download and install my model deck
My model deck has five pre-made flashcard templates that are really handy in each phase of the learning process. They'll save you a lot of time and are pretty quick to install:
Download it here. If it doesn't seem to download, but instead dumps a bunch of code all over your browser, try downloading this zip file version and then decompressing it once you download it.
Double-click it. If Anki is installed correctly, it will open up and my deck will install itself. You should see this: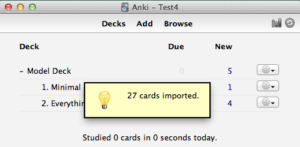 Get ready for two silly but necessary steps. First, click on the text "Model Deck." You'll see this: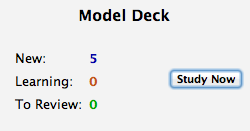 Then click "Study Now." You'll see a flashcard that says "Press the exclamation (!) button to get rid of me the first time I show up!". Follow the instructions – press the exclamation mark button (five times) to get rid of the example cards.
When you're done, click on the "Decks" button on the top left. You're done. You now have my model flashcards installed, which will make flashcard creation a lot easier.
(Optional) If you'd like to rename my model deck (To "My French Deck," for instance), click on the gear button on the right side and select 'Rename.' Then type in whatever name you'd like for your new flashcard deck.
Step 3: Start making flashcards
Your flashcard needs will vary, depending on which phase of the learning process you're at. Here are your options:
Phase 1: Sounds
Phase 2: Simple words
Phase 3: Abstract words and grammar (Sentences)
Make your flashcards faster
If you want to save yourself ~30–60 minutes of time making your first Anki flashcards, then check out our shop, which has a number of resources you can use to speed up the process. There are also other ready-to-use Anki flashcards in various languages that you can check out.
The Anki language learning Reddit forum also has tips to make cards faster, as well as this Anki language blog.
Update: Don't forget that we also have our Fluent Forever mobile app, which doesn't use Anki but can be way faster.
Need help? Check out the Fluent Forever Member Community
If you would like to learn more about the Model Deck and how to load it, or any issues getting it started, then why not check out the exclusive Fluent Forever Language Learning Community?
You can also ask questions about the Model Deck there, leave a comment or question at the bottom of this Gallery page, or get in touch with us via email at help@fluent-forever.com.
If you have more questions about Anki and language learning specifically, there's also the Anki language learners group on Reddit. Plus, go over to this Anki language learning website for other Anki tips and tricks.
Speed up your language learning with the Fluent Forever app
The book method has been developed into an app. Discover our immersive method rooted in neuroscience designed to take you to fluency in < 30 minutes a day through four steps:
1. Train your ears with pronunciation lessons.
2. Learn vocabulary through images instead of translations.
3. Learn grammar naturally through stories relevant to you.
4. Practice your speech to fluency with native tutors.
Check out the Fluent Forever app right here! And find out how to learn a language in the fastest way possible with our 11 ultimate fluency tips.