Linguistics
Three Shows in Spanish On Netflix You Need to Watch Right Away
4 min read

[addtoany]

test
Cable TV cords are long gone. Online streaming services like Netflix, Amazon, and Hulu have changed the way we view entertainment now. As the market grows, customers benefit from cut-throat competition and enjoy an expansive list of original shows from each streaming service. 
Netflix, which first launched its streaming service 12 years ago, has the best list of regional shows from all over the world. Its Spanish shows range from tele-novellas to gripping thrillers.
The second most widely spoken language in the world, Spanish, has an official status in 21 countries. A Spanish Netflix binge can help language learners understand the regional differences between the Spanish spoken across various parts of the world. 
Some distinct differences between Castilian Spanish (popular in Spain) and the Latin American Spanish are distinctly recognizable in these shows. 
The shows will help train your ear as you proceed to become fluent forever in the widely spoken language. 
1)   Narcos
This show tells the true-story of the most popular drug lord in history: Pablo Escobar. Although his name rarely needs an introduction, Escobar was a Colombian drug lord who rose to fame in the late 1970s.
He went on to become a billionaire through his many cocaine distribution channels across the country and in the United States. Despite his illegal trading, Escobar loved his family and his associates, oftentimes seeming more relatable and emotionally resounding than the DEA. 
A Netflix original and a classic American crime thriller, the show received worldwide critical acclimation, and has been on the top-list of many Spanish learners. It's classic switch between English and Spanish — exchanges between the DEA, the Americans, and the locals —  is a good way for beginners to learn by reading subtitles and understanding pronunciation. 
2)    La Casa Del Papel
The Spanish television crime drama follows the story of eight robbers appointed to rob the Royal Mint of Spain by printing €2.4 billion euros and leaving no trace. Each robber, code named after cities, is colorful and uniquely relatable. 
The female characters— look out for Tokyo, Nairobi and Inspector Raquel Murillo — are especially noteworthy for their powerful feminist portrayals. The mastermind behind the biggest robbery in history, El Professor, is an extremely sensitive emotional wreck who comes to care for all the robbers and wants no hostage dead.
When they were initially recruited, the robbers had nothing to lose but when it was time to walk out, they had everything at stake. This series is unique because its character-driver and does not just revolve around another robbery-gone-wrong plot. All in all, the story is gripping, funny, and can even make you shed a few tears.  
For our American audience, the show, La Casa De Papel is called Money Heist on Netflix. We recommend switching to Spanish for a better viewing and learning experience. 
3)   Gran Hotel
Another series set in Spain, Gran Hotel is a great way to get acquainted with the Castilian lisp, understand the pronoun "vosotros" and get familiar with the regional specific vocabulary. 
Set in the 20thcentury, the soap-opera is situated in a palatial hotel owned by the Alarcón family. Committing crimes is as essential for survival in this hotel as is ruthlessness in the family.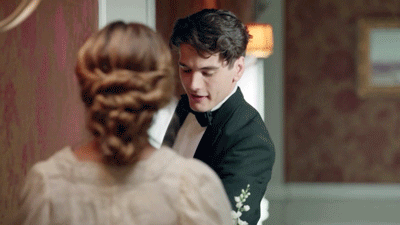 The show will have you hooked onto its suspenseful dramatic plot filled with lies, jealousy, blackmail, love stories, murder plots, and cover-ups. 
The period drama has also been highly praised for its cinematography, sets, and costumes. But the thing that draws you in the most, however, is the enchanting chemistry between the two leads, Julio and Alicia. Their nail-biting forbidden romance is simply Great Gatsby, Dynasty and The Crown level compelling. 

Watching shows in the language you want to get fluent in is a great start. Before you know it, you will soon be understanding conversations without the subtitles. Happy watching and happy learning!
If you'd like to get started today, our app is now available here.